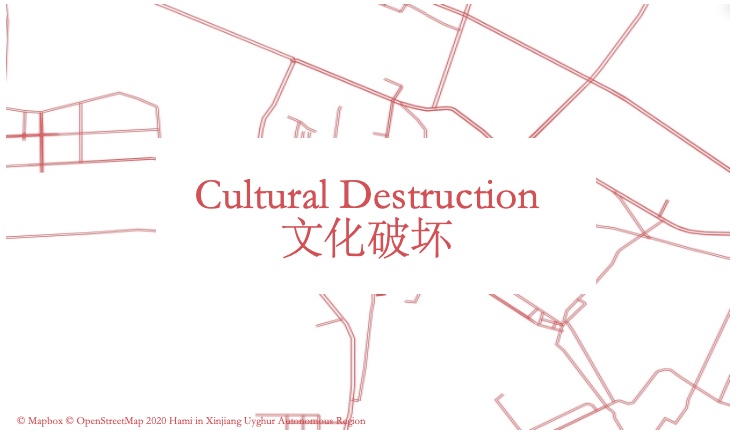 Introduction
This timeline outlines state efforts to regulate religious and cultural expression in Xinjiang. With justifications ranging from deradicalization to development, authorities have eliminated public events, razed mosques and graveyards, and enforced linguistic and cultural homogeneity.
References:
Agence France-Presse. "'No Space to Mourn': The Destruction of Uygur Graveyards in Xinjiang." South China Morning Post, Oct. 12, 2019
Grose, Timothy A. "If You Don't Know How, Just Learn: Chinese Housing and the Transformation of Uyghur Domestic Space." Ethnic and Racial Studies (Jul. 6, 2020).
Harris, Rachel. "Uyghur Heritage and the Charge of Cultural Genocide in Xinjiang." Center for Global Policy, Sep. 24, 2020.
Harris, Rachel, and Rahilä Dawut. "Mazar Festivals of the Uyghurs: Music, Islam, and the Chinese State." British Journal of Ethnomusicology 11, no. 1 (2002): 101-118.
Kuo, Lily. "Revealed: New Evidence of China's Mission to Raze the Mosques of Xinjiang." The Guardian, May 7, 2019.
Okudera, Atsushi. "Uighur Mosques Closed by Beijing, Handed over for Tourist Use." The Asahi Shimbun, Oct. 15, 2020.
Rivers, Matt. "More than 100 Uyghur Graveyards demolished by Chinese Authorities, Satellite Images Show." CNN, Jan. 3, 2020.
Roche, Gerald, and James Leibold. "China's Second-generation Ethnic Policies Are Already Here." Made in China, Sep. 7, 2020
Ruser, Nathan, James Leibold, Kelsey Munro, and Tilla Hoja. "Cultural Erasure: Tracing the Destruction of Uyghur and Islamic Spaces in Xinjiang." Australian Strategic Policy Institute, Sep. 24, 2020.
Sintash, Bahram K. "Demolishing Faith: The Destruction and Desecration of Uyghur Mosques and Shrines." Uyghur Human Rights Project, October 2019.
Thum, Rian. "The Spatial Cleansing of Xinjiang: Mazar Desecration in Context." Made in China Journal 5, no. 2 (May-August 2020): 48-61.
"Under the Guise of Public Safety, China Demolishes Thousands of Mosques." Radio Free Asia, Dec. 19, 2016.
杨薇薇 : 〈遏制宗教极端思想渗透的策略研究〉,《陕西社会主义学院学报》,2015年第03期,49-51。